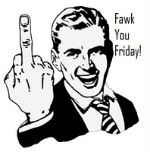 Boobies, Babies and a Blog
hosts Fawk You Friday. Go link up and bitch, whine and moan as much as you want.
This week's Fuck You's:
Fuck you to my car boot that bashed and pummeled my index and middle finger. I was outside of Megan's school when it happened so I couldn't shout my usual colourful four-letter words. I did sneer and nearly cry and the word FUCKER! was on the tip on my tongue..
Fuck You to the Holiday Club people that took up two hours of our time last night with promises of a free holiday, while they blabbed on about cruises we'll never be able to take, Bali Beaches and how beautiful Italy is. Will I ever fekkin' learn?
Fuck you my favourite orbitrek machine at gym that has started squeaking. I like to be tucked away in the corner when I train because it makes me feel invisible and safe. Yesterday my corner machine started squeaking and because I had Jack White jamming in my ears on my iPod, I didn't hear. I wondered why everyone was staring at me.
Fuck You to this idea of organising an South African Blogger Conference that is keeping me awake at night thinking of ideas and angels...I think I may have bitten off more than I can chew...

L.A.M.B $299.99
Have a BRILLIANT weekend, Plonkers!
Sorry, no Flash Fiction 55 today.
I'm off to a fancy dress "P" party on Saturday night.